You are sold on the idea of MMA . What do you do next? How do you assess the different mobile marketing automation companies in the space and what are the things that you need to tick off to ensure that you are getting the software that you need?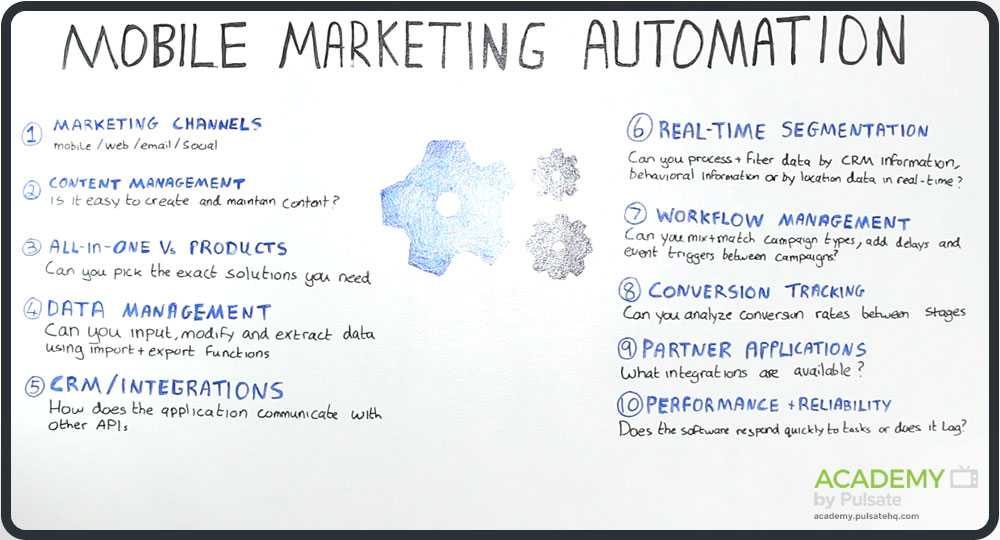 1. What channels can your MMA broadcast to?
When considering an MMA solution, you will need to think about the channels that you can broadcast to and communicate through with customers. The obvious one here, of course, is mobile.
We are talking about mobile marketing automation systems so we are talking about push notifications, in-app notifications, message centers and feed cards.
Perhaps across the web, you are using JavaScript to track customers interactions or using web notifications alongside mobile push notifications. Your marketing team should be able to mix and match mobile marketing activities with web and email easily.
For example, a user deletes your app, the app has gone from the phone, you can't really do any mobile marketing anymore.
What you can do is send them an email. Your email could be an exit survey when they uninstall the app. You could ask them what caused them to uninstall the app?
At Pulsate we see social as a channel with increasing importance for driving re-engagement within your app. You can also do some retargeting in social channels to remind your past customers that you have an app and to come back and use it including a special offer that deep links back into the app.
2. Is the Content Management System easy to use?
Make sure the content management system (CMS) is very easy to use. I've spoken before in other videos about jobs to be done.
We recently completed some research around why people buy mobile marketing automation solutions and what some of the driving factors are.
One of the things that appeared multiple times as part of our research was the ease of use of the system and how marketing teams could use it to implement their content strategy.
"It should be point-and-click, drag-and-drop, very easy for them to use with confidence, build a campaign without calling up the IT team and getting frustrated in the process."
It must be very easy to create and maintain content and campaigns. To save time and marketing spend avoid your marketing team wasting time with any HTML, XML or JSON markup languages to design creative.
3. All-in-One Vs Products
It's important to consider if you require a huge All-in-One bundle of products that comes with a high annual cost or if the vendor can provide you with individual products or modules that you can choose based on your needs to form an integrated suite of your choice.
4. Can you easily break up with your old provider?
It's important that you can easily import your data from a previous solution or from your in-house system so that you could easily stand up the solution.
Check to see if you can:
Shift your data in and out easily.
Export everything.
Own the data
Bring it back into one of your own systems
Or if you wanna switch vendor, that portability is not an issue, that you can get up and you can leave and take this data with you.
5. Does your software play nicely with your CRM?
When I mention by CRM integration, does the vendor have open APIs so that if your CRM isn't exactly out-of-the-box, off-the-shelf, will they work with your solution?
Does the vendor have solutions or a services team to consult with you on how to get this data and securely expose it out of the organization, securely through the firewall and then pipe it into the chosen vendor?
Do they have any expertise around this or is it just like a cookie cutter?
You want to make sure that people are open and that you can work with them to help you build app integrations into the system as is necessary.
6. Can your software segment customers in real-time?
You would be absolutely amazed at the vendors in the MMA space that don't actually support real-time segmentation.
Many vendors simply cache their data.
It could be done maybe every day or more frequently, we see every hour they are updating their segments.
Pulsate and some of the most modern solutions use real-time segmentation meaning that when an event happens when someone changes their location, that they are swept into the segments that you've defined and that happens within milliseconds.
You want to be sure that you can filter data, not only on the out-of-the-box segment rules that the vendor gives you but you can also filter data based on custom requirements that you supply either via the app or from your CRM.
This is very important. You also want to ensure that you can segment based on not only actions and events in the app but also behaviors and location data and of course, I mentioned it before, I'm gonna emphasize it again, real-time, that this all happens in an instant.
7. Can you easily create a workflow?
A workflow management means that you can mix and match your push with your in-app and your email and you can do one after the other. First, you could send an email.
If they don't open the email, then two days later, you might want to send a push. If they don't open the push, do an in-app message. You want a two-day delay buffer between the two and the first one has a one-hour delay buffer.
This is a workflow. It's a series of campaigns of different channels that are set at different times based on different events or the lack of certain events happening. Very useful tool.
8. Are you able to track conversions?
Are your campaigns achieving a goal?
Are they successful, and I mean beyond the open rate?
Do customers come in from that push campaign and do they update their credit card details or book their first trip or whatever it is?
The idea is that you are event tagging various sections of your app and then attributing those events occurring within a given time-frame to the campaign. This will be your goal or your conversion rate for that campaign and that's what I mean by conversion tracking beyond the open rate.
9. Does your solution plug in with partner applications?
I've talked about your CRM integration and custom APIs, but you also need to think about your partners.
You could have Salesforce marketing cloud, Adobe marketing cloud, Oracle marketing cloud, SAP, all of these different solutions.
You want to make sure that the solution you select already has some prebuilt plug-ins to these and some of the other APIs like MailChimp and Twilio and Responses so that you could easily connect your mobile marketing strategy with other tools that you currently use.
10. Is the Mobile Marketing Software reliable and scalable?
The final point I'd like to make is about performance and reliability. You want to make sure that they offer a 99.9% uptime guarantee that they are displaying publicly all of their APIs, their availability, their incident reports.
You want to make sure they've built a technical architecture and infrastructure that accommodates content distribution network, that is co-located, security hosted, is properly secured and that when events come into the system, whether they are in-app or location events, they have an ability to process them very quickly.
When you want to send a million push notifications on the occasions that you do, you want to make sure that they are delivered quickly.
If you have millions of users opening your app at the same time and requesting campaigns, that their APIs can deal with that kind of scale.
I would encourage you to ask your vendor about their scalability.
If it's something you are worried about, conduct your own scalability tests on their APIs.
That concludes my final point here for everything you need to know for selecting the right mobile marketing automation company. Considering the channels of content management, data management, security and scalability, conversion tracking and, of course, real-time segmentation.
If you have any questions at all from today's episode, you can leave a comment below.